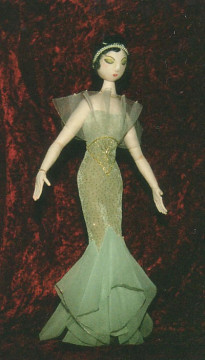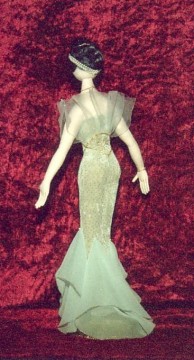 Category: Advanced
Doll Artist: Joan Profile / Articles / Webpage
Medium: ...
Description: This is her first attempt at using Christine Trelevens method of 3D doll making
Inspirations: ...
Herstory: ...
The Critics: Now here's someone who loves to make "clothes" – those beautiful fishtail godets inserted neatly into the hem, the fine embroidered detail across the front and back midriff and finally the "mouselline de soie" bodice overlay.
It's also the first time I've seen mitt hands that actually looked realistic – so it can be done!
A fine piece of costuming – lovely work – well done, Joan.
All critics are by participant Sue Farmer if you want to learn what makes she write them please read her article: Where Angels Fear to Tread !!