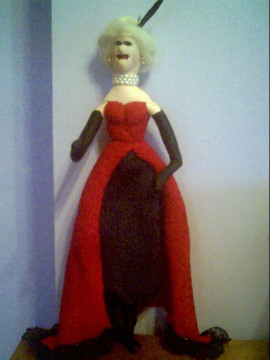 Category: Beginnner
Title: Symphony, going to the Opera
Doll Artist: Mary Conner Profile / Articles / Webpage
Medium: All cloth
Description: This pattern for the body is from an old Cloth Doll Magazine Dress and finish work is orginal design
Inspirations: ...
Herstory: ...
The Critics: Mary chose to keep to a simple design for her clothing and jewellery which gives her doll a regal effect – the little feather in the hair is a nice touch.
I'd like to have seen her hands but they disappeared into the darkness, which is a pity, as the arms of the gloves work well (Mary, did you make them separately or just make the arm pattern in black? Most effective anyway)
Dollmakers will tell you that you need to have one eye length between eyes to stop them from appearing crossed. One of the best ways I have discovered for trying out a face is to cover the face with cling film (Saran Wrap, Glad Wrap, whatever name you know it by) then draw on it with a fine black marker.
You can see if the face is going to work for you – then just push pins through at the corners of the eyes and mouth and you can mark the points onto the fabric with your disappearing pen and draw in from there. (Removing the cling film first, of course!)
It's hard to keep a balance when drawing straight onto the face, more so when you are new to it!
As you become more confident I'm sure you will enjoy trimming and embellishing – it will give you great pleasure – (I'm only just beginning to loosen up with embellishing, so I do know)
To some people it is second nature – to some of us it's a little harder to let go! Enjoy your dollmaking!
All critics are by participant Sue Farmer if you want to learn what makes she write them please read her article: Where Angels Fear to Tread !!