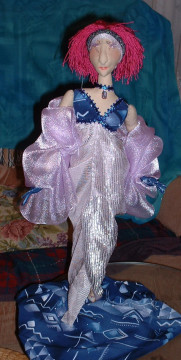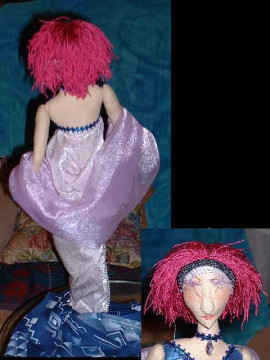 Category: Beginnner
Title: Lady Celedine
Doll Artist: Helen Grossman Profile / Articles / Webpage
Medium: ...
Description: Pattern - Ann Maullin , the name after her doll as well Beading and dressing - mine :)
Beading on her headpiece took me almost a week, tubular peyote stitching
Inspirations: ...
Herstory: ...
The Critics:Helen has made imaginative use of her fabric, creating a side draped dress and a "scrunched stole" which drapes well across the back.
The bodice is also a nice cut for this doll. It's difficult to see what happens with the royal blue fabric around her feet (tell us Helen, or direct us to another photo). I find the royal blue a trifle strong against the lilac but this is purely a personal thing..each to his own taste…the red hair also distracted me slightly, although it does make her a "character"!
I kept imagining her with an oversized turban and trailing feather…s-o Erte…or even with a twenties bob and the beading used as a cross-forehead headband (though for that the eyes would have needed to be lower down the face or else extra padding to left the hair off the forehead…pretty much experimentation!
Not having seen the original pattern I don't know if this is a pointy chin doll or if you have had the problem that seems to vex us all when we start – I've certainly got more witches than fairies gracing my shelves…but I will have something to say much later on about what it takes to fix pointy chins (apart from practice!), and hopefully others will contribute as well.
I'm also not surprised that the peyote beading took so long – I've struggled and so far only made a fringed breech cloth for one doll – there is obviously a knack to doing it!!!
Like everything, I suppose it all takes practice. Congratulations on the Best Embellishment award…I'm sure that will spur you to more beading!
All critics are by participant Sue Farmer if you want to learn what makes she write them please read her article: Where Angels Fear to Tread !!