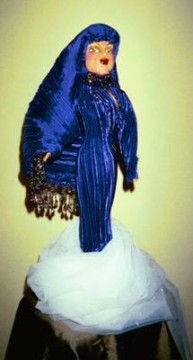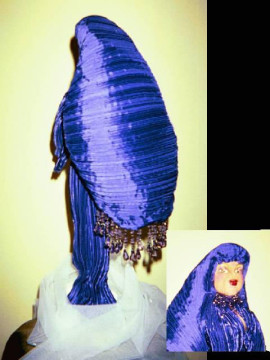 Category: Beginnner
Title: Shena
Doll Artist: Yvonne Howard Profile / Articles / Webpage
Medium: ...
Description: This DIVA name is SHENA' very French she is.
Shena is wearing an original design made by my hands
. Purchased of the finest material...I was told always buy the best if you present a doll for competition... The material shows here as blue, it really is a dark pleted purple blue.
Diva's love the best. Her face is made out of stocking and then painted. Adorning her neck is a purple fun fiber.
She wanted to feel a little regal and decided to cover her locks. The body is made out of plastic, I tried to no end to get that tight, curvey body out of stocking but couldn't.
I had so much fun with her.
Inspirations: ...
Herstory: ...
The Critics: What a beautiful fabric Yvonne – however, one has to be careful with fabric choice, particularly expensive fabric – it has a terrible tendency to to be rather like a child taking a Great Dane for a walk….who ends up in charge? In this instance I think the fabric almost overpowered your Diva…the use of it for the dress is excellent – it follows the lines of the body and makes an interesting texture.
It might have been worth while experimenting with what the pleated fabric could do – I know in theatre we knot it,…fan out the edges with stitched-on fishline…form pleated fans…stitch it alternately back and forth – it is tremendously versatile.
Arms outstretched or away from the "cloak" would also help to give the Diva a more "balanced" look – one tends to focus on the face and fabric instead of the doll as a whole.
It's also a pity one can't see more of the embellishment on the dress and cloak in the photos.
I'm interested to know what you mean when you say her body is made out of plastic – tell us a bit more about her and if you have a place to put up clearer photos, let us know.
The face has worked well – you've developed a good face shape and the face painting is particularly pretty. I'll be interested to see what you tackle next!
All critics are by participant Sue Farmer if you want to learn what makes she write them please read her article: Where Angels Fear to Tread !!