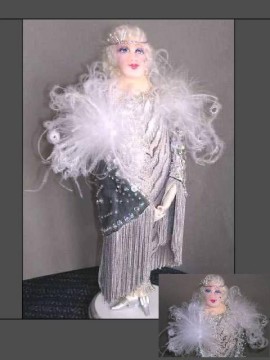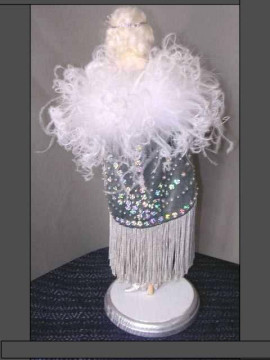 Category: Intermediate
Title: Colette LaRoux

Doll Artist: Sandy Whittley Profile / Articles / Webpage
Medium: ...
Description: Her beginnings was a pattern by Pricilla Mcdonalad...with lots of changes....
She has painted silver shoes with a beaded buckle.
Her dress, which you can't really see, is also beaded at the neckline and sleeves.
Her cape is beaded, has long fringe and a lovely curly ostrich collar.
She has a three-color braided headband with a silver bead ornament.
Inspirations: ...
Herstory: ...
The Critics: I'm sure there was no doubt in anyone's mind that Colette was going to be a winner…the absolutely "spot-on period" feel, the bee-sting lips and bedroom eyes.
The lovely fringed and bejewelled cape, the clever effect of chevroning the front of the dress, which carried the eyes down - past the l-o-n-g fringe to those exquisite shoes.
Was she wearing gloves Sandy? I ask since the face fabric seems peachier than the armss, but the cape hides her hands. I also couldn't tell if she was a pancake face doll or if she had a chin…do tell!
Lovely Marcel-waved hair as well (I can remember my Mum with hair like that!!) The ostrich feather collar also adds to the overall look.
Would have been nice to have seen a real close-up of her face in the little insert at the bottom right of the photo…
Congratulations on your win of Best Embellishment – it was well deserved!!
All critics are by participant Sue Farmer if you want to learn what makes she write them please read her article: Where Angels Fear to Tread !!