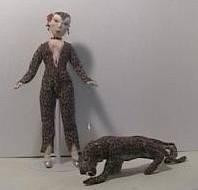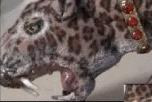 Category: Intermediate
Title: Asheara
Doll Artist: Eleanor Heimbach Profile / Articles / Webpage
Medium: Cloth.
Description: Stalking Panther Pattern by Kareena Bouse Class.
Inspirations: Inspired by Erte statuette from Franklin Mint Leopard.
Herstory: ...
The Critics:If ever there was a "Femme Fatale" she had to be something like Asheara! Dark-eyed, plucked eyebrows and the sculpted hair…would Barbie have trusted her Ken doll with Asheara?…I think not!!
Her face is really unusual - Eleanor has managed to give her high cheek bones (definitely Middle European, this little lady!) The eyes are particularly effective…and I like the flower behind one ear – just makes her all the more exotic.
The breast sculpting seems a little rough, which slightly spoils the plunging neckline (there are patterns "out there" Eleanor, which give very good instruction in this).
Is the fabric a crushed velvet?…I can't tell – looks as though it could be a dark wine…would love to know!
The leopard is remarkable (what size are the doll and leopard, by the way? I think only one person told us the size of their doll - Mindy, if I remember, who did a 5" tall fantasy doll…but more on that later)
Unfortunately, the full photograph is not clear enough for us to appreciate either the lounging pyjama suit or the leopard, but I'm sure you are very proud of her!
All critics are by participant Sue Farmer if you want to learn what makes she write them please read her article: Where Angels Fear to Tread !!