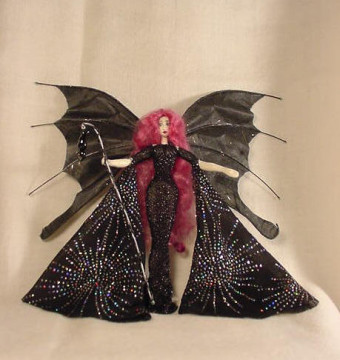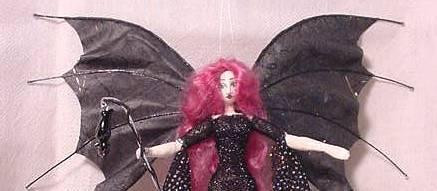 Category: Professional
Title: Morghanna, the Fairy Gothmother
Doll Artist: Mindy Profile / Articles / Webpage
Medium: Paper clay head and cloth body.
Description: Original One of a kind doll...5" tall......hair is dyed mohair...she carries a little bat on her staff...
Inspirations: ...
Herstory: ...
The Critics: In an email Mindy said "I can't tell you how embarrassed I was this year. The doll I entered was cute, but just wasn't up to the high standards set by the other entries. As soon as I saw the other dolls, I wanted to put a blanket over my head and hide in the closet."
Oh! tosh! I recall Mindy saying that this was not the doll she'd planned, (she hadn't finished yet) but she wanted to take part in the fun… well, I'd love to have seen the real thing!
While the little doll may not be "on theme", Mindy has given us an opportunity to see how much detail can be put into a doll only 5" tall.
When I look at my hand and realise that this doll's head is the size of one finger joint, I think it is remarkable and much more than just "cute"!
Thanks for sharing her with us, Mindy, I certainly enjoyed seeing her.
All critics are by participant Sue Farmer if you want to learn what makes she write them please read her article: Where Angels Fear to Tread !!