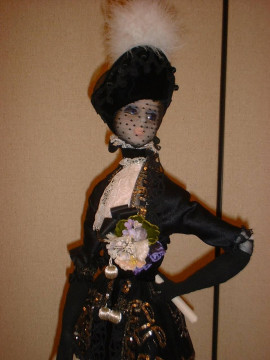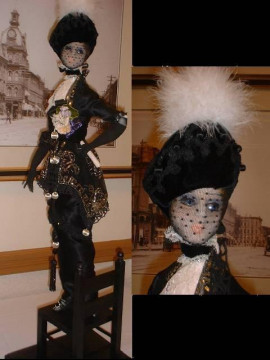 Category: Professional
Title:
Princess Paley





Doll Artist:
Griff Henninger

Profile / Articles / Webpage



Medium: Cloth
Description: My doll is 28" tall
The Princess is wearing a black, crepe-backed satin double tunic hobble skirt that puddles at her ankles like a kimono.
The gown in strummed with metallic thread, cut steel, and small soft silver sequins in a Greek key design.
She is wearing long black gloves and her bodice is set off with a white jabot of old blonde lace. Her hat is the new smaller hats of the season that have just replaced the gigantic "My Fair Ladies" hats of 1909-1912.
She is wearing a black spotted veil and her hat is accented with ornamental black braid and a marabou poof.
Inspirations: ...
Herstory: Princess Paley is the morganatic wife of the Grand Duke Paul, Uncle to the last Czar of Russia, Nicolai II. His first wife, Alexandra, daughter of the King of Greece died in child birth.
The child, the Grand Duke Dimitri, survived and was raised with his older sister, the Grand Duchess Marie by the Grand Duke Serge and his wife Elizabeth who was the older sister of the last Czarina, Alexandra Feodorovna.
Dimitri was later involved in the assassination of Rasputin. The Grand Duke Paul was banished from Russia for marrying a commoner and the couple spent most of their time in Paris.
The Critics:
For me this was the highlight of the Challenge (Sherry has said it was her fault that the pictures were so dark, since they were taken in her hotel room!)
What an exquisitely dressed doll…certainly a collectors piece. The pose of the doll, with her head turned to cast a backward glance is just perfect.
From her stylish hat with its marabou cockade, lacy pouter pigeon chest, and what also appears to be a lacy peplum, she is Russian High Society to a "T". She even has buckled shoes (which don't show well in the original photos).
One can't make out some of the detail (the skirt, for instance) but even veiled, one can see the beauty of the face. (Griff, are there better photos somewhere?)
A well-deserved win and I'm sure there was no lack of offers of a home for her! Congratulations! Inspiration to us all!
All critics are by participant Sue Farmer if you want to learn what makes she write them please read her article: Where Angels Fear to Tread !!