Clothdollmaking Challenge 2003
| | |
| --- | --- |
| This doll was made for the Clothdollmaking Yahoo Group 2003 Clothing Doll Challenge. The pattern incorporated a dressed torso. I have lots of difficulties sewing that torso, this is my third torso, but at last it turned out well enough for me. She is dressed with a "bata de cola" or a flamenco skirt, and wears a "peineta" and a "mantilla" in her head. She was a real challenge to sew, but I love the results. | |
| | |
| --- | --- |
| | The doll facial features are needle sculpted and then painted with acrilic paints. I added trimmed eyelashes to her eyes. For her nails I put some glue on each finger and then shaped as a nail, before it was dry. Then I added some real nail paint. |
For her hair I used bought doll hair and tied in a bum. Then added the "peineta" that was cutted from a "full size " cheap plastic one.
And finished with a "mantilla" of french cotton lace.
The shoes are painted and them embellished with ribbons and beads (my mother helped me doing the ribbons flowers, I wasn´t finishing her on time):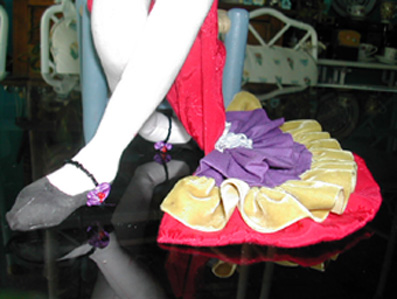 You can see her reversible "bata de cola" featuring on one side the colors of the Spanish Republican Flag and on the other some lace:
The pattern , instructions, etc. are original of Phyllis specially made for the Challenge that she hosts in her yahoo group:
http://groups.yahoo.com/group/ClothDollMaking/
Please visit her site for great dolls, wonderful patterns and the Challenge partipaant's and winner´s doll :
http://designsbyphyllis.homestead.com/index.html
She loves to be outside in the sun. Here you can see some of her pictures on a recently visit to my mother´s garden.
Be careful while sunbathing: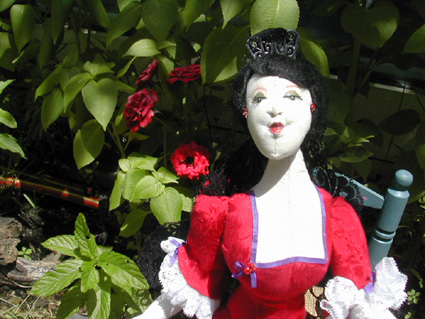 Do you want to see more pictures of her?, To know when this site would be updated with some of her friends? Or just want to share some ideas?
Please contact with me:
Thanks.
Home