Do you know anybody who is not online but would like to join this challenge? Why don't you help him/ her/ them? You can post their pics and keep them updated.

Do you know somebody that although not a dollmaker loves to work with fabric or this historical period? Maybe you can encourage them to participate.

What about making this challenge your local club´s Spring Challenge?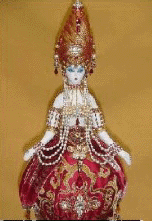 Beaded Tassel Doll by Arley Berryhill
2003 CIT winner of Advanced Best Embellishment