Expanding this year´s Challenge theme give us a whole new insight.

We can stilll be inspired by Graphic Designer ERTE
George Barbier, Fashion Illustrator
Among the cloth designers of this period we have:
Bias inventor Madelaine Vionnet
Spanish designer: Mariano Fortuny
And french haute couture creator Paul Poiret
Flappers

For wonderful costume links check the Costumer Manifesto's 1910s and
1920s pages
Also check fashion-era.com

Do you have any links that you want to share? Please email me or the group and I will addd a link to it.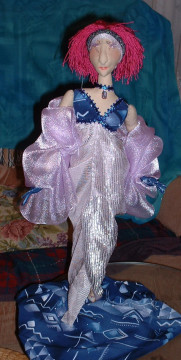 Lady Celedine by Helen Grossman
2003 CIT winner of Beginner Best Embellishment